Planning to spend a few days vacationing in the city of Tulum? This is perfect! The city of Tulum has several 5 star hotels that have a jungle and natural look.
There are also 4 star, 3 star, adult only, all inclusive and of course: Incredible beaches, natural areas, caverns and cenotes.
May I continue? Actually, to continue talking about the city of Tulum would "take us out" of the main topic of this article.
And what is that topic? A travel guide to the city of Tulum from Cancun. So let's start now.
How to get to Tulum from Cancun
The fastest way to get to Tulum from Cancun is through a private transfer service to Tulum.
This service is the best way because it is private, you can book it online, you can choose the "departure" point and it can be Cancun airport.
Or, your hotel where you are staying, your vacation apartment or AIRBNB. In addition to these advantages. By paying online you don't have to pay any more.
You can customize your trip and even choose between different types of vehicles and number of passengers. All great, isn't it?
But what's the downside? The disadvantage is that it is usually more expensive than public transportation or the ADO bus.
And right now we are going to talk about how to "use these two economical options" to travel to Tulum from Cancun.
ADO bus
The ADO bus is an "economical" method of travel and can be taken from the Cancun airport.
What does this mean? If you are arriving from a flight, then you will first arrive at the Cancun city airport and from there you can find an ADO bus.
At this booth you can buy your bus ticket to Tulum. The ticket costs approximately 15 USD to 18 USD (It all depends on the current USD to MXN price).
This cost is per person and you just have to be patient and wait about 1 hour to board the bus.
The bus first makes a trip to Puerto Morelos, from Puerto Morelos to Playa del Carmen and from Playa del Carmen to downtown Tulum.
Once you arrive in downtown Tulum, you can either walk around the area or take a cab to your hotel.
All good, but what if I am in downtown Cancun? Well, it's not complicated either: Just find the ADO terminal in downtown Cancun and take the bus.
The cost is the same (15 USD to 18 USD) and the route is the same. It is worth mentioning that the cost is per person.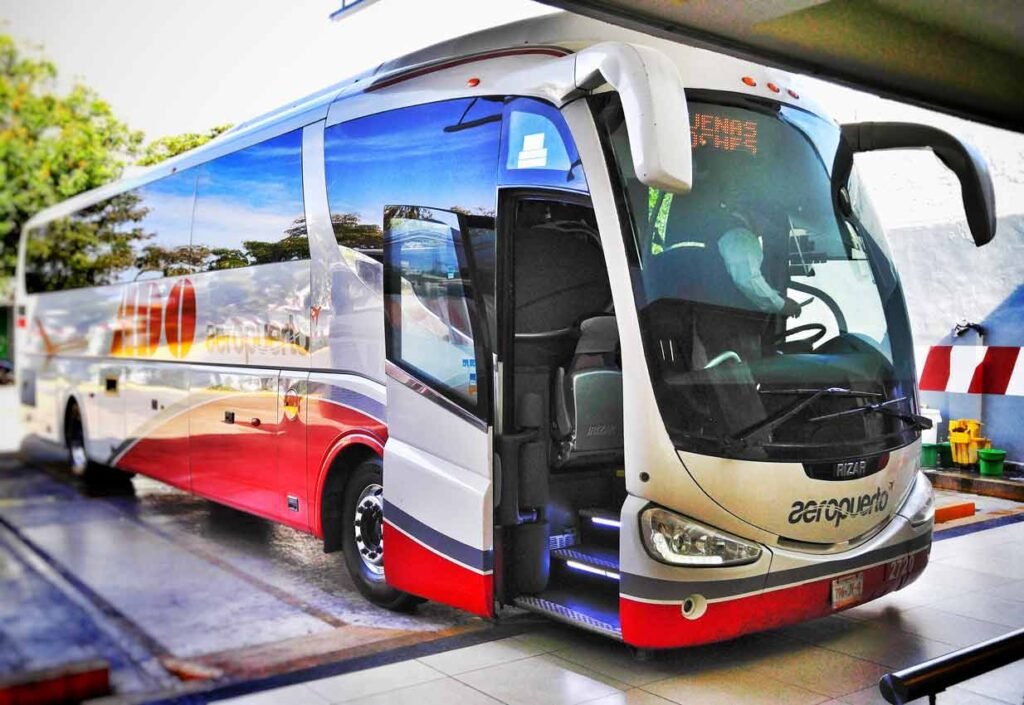 Public transportation
Before we begin… it is necessary to mention that there is no public transportation service from Cancun to Tulum.
There is a shared transportation service. It is usually known as "Colectivos". But the millions of travelers who visit the city of Cancun have called it that: Public Transportation.
So, how can I get to Tulum by public transportation? This means of transportation can only be taken in downtown Cancun.
Right in front of the ADO terminal, there is the "base" of Playa Express. Playa Express is a private company that offers continuous transfers every 30 minutes to downtown Playa del Carmen.
Wait genius, I don't want to go to Playa del Carmen! We know. But what we haven't told you yet, is that just 50 meters from the Playa Express base in Playa del Carmen you can catch the next colectivo to Tulum.
In short, to get to Tulum by public transportation from Cancun, you have to take two different buses.
One from Cancun to Playa del Carmen which costs 3 USD and the other from Playa del Carmen to Tulum which costs 3 USD.
That is: You spend only 6 USD one way and 6 USD for the return trip. This gives us a total of 12 USD.
Conclusion
The private transfer service is the most "expensive" option to go to Tulum, but of course the most comfortable. Meanwhile, the ADO and public transportation options are much cheaper. But their logistics can be a bit of a "hassle" and even more so if you are traveling with luggage.
But if that doesn't matter to you and what you are looking for is to economize to the maximum: Then public transportation is your best option.
So that you don't leave yet, we invite you to read this post.